Categories iPhone
5 Top Video Editing For iPhone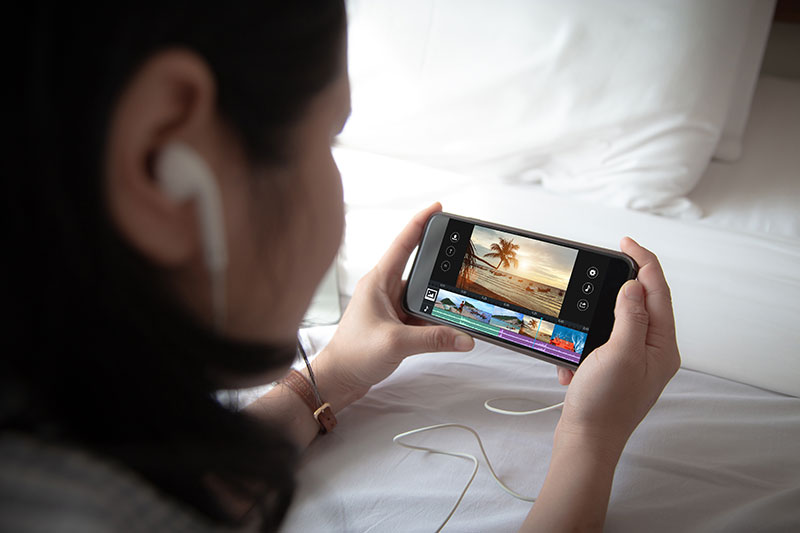 5 Top Video Editing For iPhone
The iPhones are steadily becoming better and more capable of performing intensive tasks. Video editing is one of them.
The advanced 4K cameras and video recording provided by these Apple phones are epic. Lady Gaga got so impressed with it that she recorded her song "Stupid Love" with her iPhone 11 pro max.
These Apple A13 Bionic chip-powered cameras are considered the best quality cams in a smartphone. But, the iPhone doesn't only provide a camera, but it has multiple photography/videography tools and video editing.
Now, you can shoot, edit and publish your iPhone videos anywhere you like.
There are five top video editing apps for iPhone that provide pro-level editing with real-time effects and aesthetic filters. People using TikTok and Instagram are already in love with these video editors.
Top Video Editing Applications for iPhone Users
Here are the details of these top five iPhone video editors for 2021:
1. LumaFusion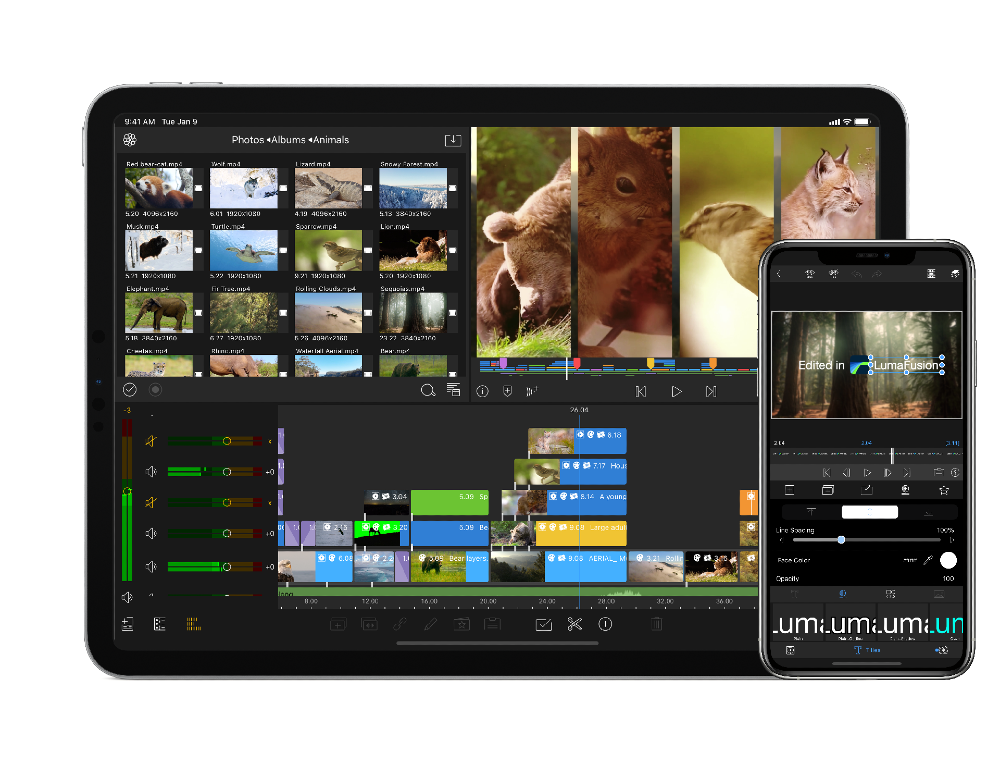 LumaFusion is the best alternative for people who prefer editing high-quality videos on their iPhone as it provides a whole set of features.
The multi-track editor inside this video editing utility provides up to six audio/video tracks to use in your photos, graphics, videos, and titles. You also get an additional pack of six audio tracks for sound effects, music, and narration.
The best feature loved by many filmmakers is that LumaFusion has the ability to keyframe any effect or clip animation, which allows precise adjustments for a video project.
Other valuable features include color correction of videos, an audio mixer, slow-mo, fast motion, title creation, overwriting, lossless export, and much more.
The video quality doesn't diminish with this tool as you get endless sharing options on any platform. LumaFusion can directly post your video to YouTube.
The LumaFusion app comes with a one-time fee of about $30, which is not bad considering how multi-functional this video editor is.
2. Adobe Premiere Rush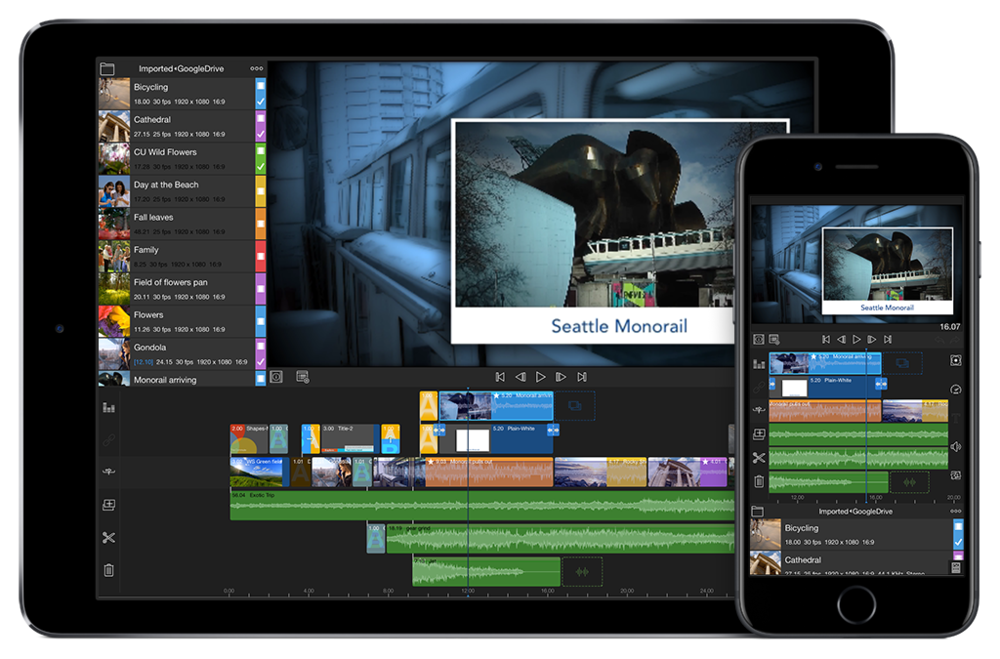 Sometimes a cross-platform app can prove to be the best tool for you. Adobe Premiere Rush is a prominent example. This video editing utility is much easier to use than other Adobe video tools like Premiere Pro, After Effects, etc.
Premiere Rush focuses on simplicity as it wants the user to efficiently process their clips which they can later post to their social media channels. It automatically converts the videos in specific ratios according to each platform – keeping the video quality intact.
Many famous YouTubers have been using Premiere Rush on their iPhones. They can sync both their iPhone and PC to use this tool.
The best thing this Adobe utility provides is its simple yet elegant interface. The controls are easy to navigate, thanks to the large control panel. You can drag and drop any video to the timeline, mix music with the video, add titles and transitions, and much more.
The tutorials also help you use it, but it's so easy you can do it yourself. So, try Adobe Premiere Rush on your iOS and make editing fun.
3. iMovie
iMovie is a built-in iOS app. This tool might not be as powerful as those mentioned above, but if you're a beginner at video editing, then iMovie would be the ideal choice.
iMovie will provide all basic functionalities like adding titles, inserting voiceovers, photos, music overlays, and much more. You can also load your selected clips on the magnetic single-track timeline and re-arrange them according to your choice.
You can zoom in to the clips and delete the unnecessary ones. Background changing is done nicely through this tool. The trailer templates are suitable for beginners as they tell more about film editing.
The good thing is that iMovie supports 4K resolution videos, so your iPhone captured UHD 4K videos would beautifully edit on this software. You can sync your iCloud directly to iMovie and save your project on the cloud too.
You can also stream your iMovie projects on Apple TV via AirPlay. The developers constantly fix bugs from this app, so you don't have to worry about any glitch throughout the editing process.
4. KineMaster
KineMaster is an efficient tool for those who love to apply artistic filters and striking effects to their video projects.
It is because KineMaster comes with ultimate features like audio mixing, multiple blending modes, chroma-keying, multi-layered interface, edit and export, and much more.
The multi-layer interface allows you to shoot your video and edit it over your iPhone and tablet. You can also take the editing to Android devices.
You can also trim your clips, add layers to them, and do frame-by-frame customization. The users can also adjust the audio clip timings. One can add multiple video layers, still images, text with various fonts, and multi-track audio.
Other than that, you can also edit your final preview, thumbnails, speed controls, 3D transitions, color LUT filters, and much more. This tool is fully-fledged video editing software for your iOS.
KineMaster is free and puts a watermark on videos which you can cut by subscribing to them. Subscription would also allow you to export videos at 4K quality.
5. PowerDirector
PowerDirector is one of the most popular iOS video editing programs. It is somehow a hybrid of iMovie and LumaFusion apps.
You can import clips on PowerDirector from your local or cloud storage and line them up on the timeline. Selecting a particular clip will display additional tools which you can use to edit that clip.
Although the toolbar of PowerDirector is a little bit more complex, it gives you all the basic features and more. The pleasant background and app controls are a comic relief too.
PowerDirector also works with iMovie, so you can exchange clips from each other and complete your project. This tool might be a little pricier than others, but it's best for amateurs who require a powerful video tool for their TikTok and YouTube videos.
Conclusion
These five top-rated video apps are some of the most valuable and productive iOS apps you would find on the App Store. Try them and make your video projects more interesting, fun, and lively.